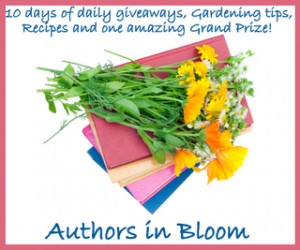 Hello! I am Janette Harjo and I am Delighted to be a part of the Authors in Bloom Blog Hop!
I am sorry to say I don't have a gardening tip for you here. I guess I'll come right out and say it; if you look up Brown Thumb in the dictionary, you'll find a picture of me. I killed a cactus recently because I forgot to water it! Imagine that?? LOL!
I'm not much of a cook, either, as I live alone and only need to feed myself. I find it hard to cook a full meal just for me. Something I do like to make in the summer months is a fruit smoothie. It's really very simple.
All you need is:
a small container of yogurt, any flavor & a like-sized glass of milk (any kind. I use Almond milk)
a handful of frozen fruit, any variety (or fresh fruit if you have it)
and a banana
1st place the fruit in a blender and blend it all together to desired consistency of fruit size
2nd add the yogurt and milk and blend all together, again to desired smoothie consistency
And there you have it! ENJOY!
I write Romantic Fantasy, and I'd Love to tell you about the CONNECTIONS Trilogy, my current release. It is a three novella story about cursed soul mates who search throughout the centuries for their happily ever-after. A child's soul searches alongside their restless spirits.
FATED – The first in the trilogy was released on August 31, 2013.
CONNED – The second in the trilogy was released on February 2, 2014.
INFORMED – The third in the trilogy and the Happily Ever After of the CONNECTIONS saga is yet to be released, but will be coming SOON!
All are available on Amazon and Barnes and Noble.
Please follow me and leave your email address on my blog to win a PDF copy of FATED and be entered to win a Kindle or $25 Gift Certificate from AiB!
This will be open to international entries (via random drawing) who enter by posting a comment to my blog at http://www.authorjanetteharjo.blogspot.com .
When you leave a comment, please be sure to place your email address in said comment so Authors in Bloom know where to send their prizes (in addition to the individual prizes on each blog in the hop) of a Kindle Fire or Nook (winner's choice) along with a $25 gift card for the same. They are also giving away a 2nd prize of a $25 gift card. A link to the other authors/bloggers participating and giving out PRIZES follows!
">
">
ENJOY!
Janette Harjo
Romance through the mists of time and Love through the dimensions of reality